Student Art Invitational (2014)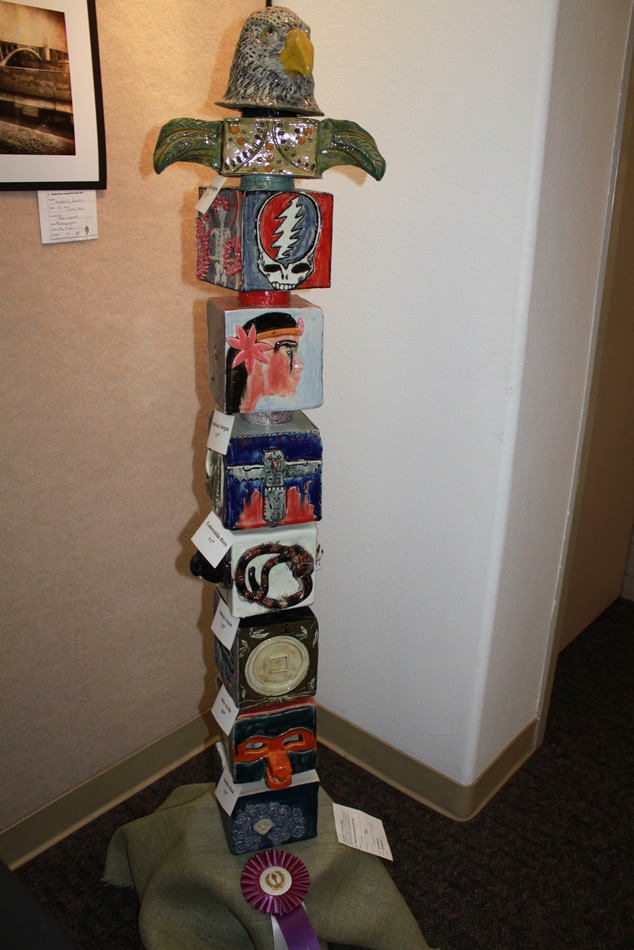 2014 Winner of Best in Show
Created by: Marissa Vargas, Maxie Ayon, Joana Salgado, Jessica Longley,
Alex Avila, Sandra Ruiz. Esmeralda Rios, Josue Medina
The Annual Student Art Invitational showcases and rewards the artistic talents of Tustin middle and high public and private school students within the Tustin Unified School District.  Students create works in a variety of visual media that are put on display for the community to enjoy.
The art invitational is a juried contest in which the student art are judged to select first, second and third place, honorable mention winners in a variety of categories.  In addition, the best of show will also be selected.
The art invitational will be held from April 1st through April 29th in the art gallery located in the Tustin Senior Center, 200 South "C" street in Old Town Tustin. The artwork can be viewed Monday through Friday 8:00AM to 5:00PM.
A reception recognizing the winners of the invitational will be held on April 15th, starting at 5:30.  Student artists receive cash awards, and their respective art teachers receive money for the future purchase of art supplies.
---
2014 Student Art Invitational
List of winners:
Category:

Name

Name of Piece

Teacher

Best In Show
Marissa Vargas, Maxie AyonJoana 

Salgado

Jessica Longley

Alex AvilaSandra RuizEsmeralda RiosJosue Medina

Spirit of Creativity

Bingham

Category:

Name

Name of Piece

Teacher

Photography

First Place

Samantha Gilbert

Unsaid Words

Peters

2nd Place

Jackie Lee

To Defy

Peters

3rd Place

Adiana Vizcaino

Sunny Tustin

Dimson

Honorable Mention

Victor Benitez

Poe's End of Time

Rado

Honorable Mention

Clay Miller

    Memory Stored

Rado
| | | | | |
| --- | --- | --- | --- | --- |
| Category: | |         Name | Name of Piece | Teacher |
| Graphic Arts | First Place | Viviana Velandes | All That We see or Seem is but a dream with a dress |     Rado |
| | 2nd Place |         Lorena Alvarez | The RGB Experience | Rado |
| | 3rd Place | Cecilia Nguyen | Mixed Me | Dimson |
| | Honorable Mention | Luis Paredes | Acceptable World Wide | Manning |
| | Honorable Mention | Olivia Lee | Ancestor | Rado |
| | | | | |
| --- | --- | --- | --- | --- |
| Category: | |         Name | Name of Piece | Teacher |
| Water Color | First Place | Mayu Tanaka | Untitled | Akashi |
| | 2nd Place |        Sun Mi Kim | Victorian Tree House | Akashi |
| | 3rd Place |        Karen Martinez | Yet to be Named … Nine Fifty Six | Cardoza |
| | Honorable Mention | Lorena Rosales |           Untitled | Cardoza |
| | | | | |
| --- | --- | --- | --- | --- |
| Category: | |         Name | Name of Piece | Teacher |
| Charcoal/ Pencil | First Place | Kelsey Holland | Tiger | Gillette |
| | 2nd Place | Sarah Ding | The Long Wait for Dinner | Akashi |
| | 3rd Place | Jacqueline Pineda | Frog | Gillette |
| | Honorable Mention | Melissa Resendiz | Outliers | Hernandez |
| | | | | |
| --- | --- | --- | --- | --- |
| Category: | |         Name | Name of Piece | Teacher |
| Charcoal/ Colored pencil | First Place | Zoey Alvarado | The God of Mischief | Parsons |
| | 2nd Place |            Micaela Manning | Blind | Gillette |
| | 3rd Place | Emily McCarthy | Exoskeleton Flower | Gillette |
| | Honorable Mention | Glenn Cortez | Stopped | Hernandez |
| | Honorable Mention | Chung Yun Seo | Struggle | Parsons |
| | | | | |
| --- | --- | --- | --- | --- |
| Category: | |         Name | Name of Piece | Teacher |
| Ceramics | First Place | Lindsey Spiak | Flower of Autumn | Abrams |
| | 2nd Place | Jessica Longley | Untitled | Bingham |
| | 3rd Place | Sarah Webb | Flowerful | Abrams |
| | Honorable Mention | Melissa Arteaga | Sunrise | Abrams |
| | Honorable Mention | Tony (Jose) Gana | ZE Elephante | Abrams |
| | Honorable Mention | | | |
| | | | | |
| --- | --- | --- | --- | --- |
| Category: | |         Name | Name of Piece | Teacher |
| Middle School | First Place | Cassandra Verme | Untitled | Truxaw |
| | |         Alexia Thornberry | Vines | Truxaw |
| | 2nd Place | Dawn Duong | The Bayou | Truxaw |
| | |            Isabella Valente | The Impossible Girl | Peay |
| | 3rd Place | Zach Rackauckas | Hidden Chances | DeVane |
| | | Kaylie Riopelle | Infinite me | Peay |
| | Honorable Mention | Maya Quiroz | Honey | Lee |
| | Honorable Mention | Jackie Telson | Out of Africa | Peay |
| | Honorable Mention | Ellis Conner | Flower Cubed | DeVane |