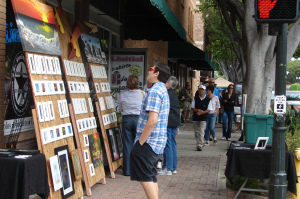 Easels and artists of every kind flank El Camino Real and Main Street in Old Town Tustin on the third Saturday in October for the annual Tustin Art Walk. The Art Walk gives local area artists the opportunity to display and sell paintings, photography, ceramics, sculptures, and jewelry.  It also gives art lovers the chance to admire the beauty of the art and architecture in Old Town Tustin while enjoying music from local musical groups and variety of refreshments. For more details about the art walk click here.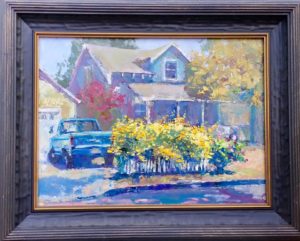 TACFA is thrilled to be one of the sponsors of the Art Walk, as well as the Plein Air and "Smile, Tustin!" contests.  The Plein Air contest is open to  professional and amateur painters with monetary prize awards up to $1,000. Entries must have been painted in the three days before the event and depict scenes or subjects from within Historic Old Town Tustin. Pictured is the 2015 Winner of the Plein Air contest painted by Paige Oden.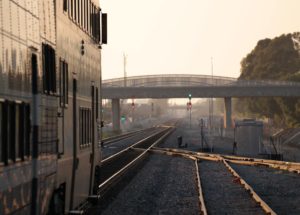 "Smile, Tustin!"  is a photography contest that is open to both professional and amateur photographers.  The contestants are invited totake pictures anywhere in Tustin that capture something meaningful to them during a designated 3-day period of time; usually over the Labor Day weekend.  For details about the Smile Tustin! contest click here.