Student Art Invitational (2012)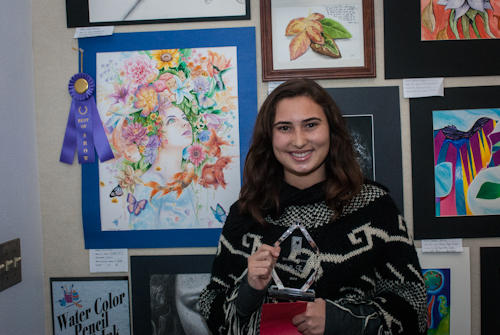 The Annual Student Art Invitational showcases and rewards the artistic talents of Tustin middle and high school students. Students create works in a variety of visual media that are put on display for the community to enjoy. Student artists receive cash awards, and their respective art departments receive money for the future purchase of art supplies.
TACFA's 22nd Annual Student Art Invitational in 2012 was a sweeping success with 360 entries from Tustin Area middle and high schools.  The art work includes ceramics, 3-D, photography, graphics, water colors, pen and ink, pastels, acrylics, and oil paintings.   Judging was done by a group of professional artists who declared the show "outstanding" in quality and variety.   A special reception for students, parents, and teachers was held on April 13, 2012, to honor the contributing artists and their teachers.  Winners were awarded cash prizes, and teachers received stipends for art supplies for their classes.  The pieces were on display until April 25, 2012, at the Tustin Senior Center.
Special congratulations to Callie Fink (Foothill High) whose piece titled "Cosmos" was selected the "Best of Show" for its quality of work.  Other first place winners included Adam Alonzo (Beckman High) with "Midnight in the Library"; Evelyn Salazar (Beckman) with "Luna"; Alex Cho (Beckman) with "Untitled"; Dania Amezcua (Foothill High) with "Leaf Platter"; Robyn Willson (Beckman) with "Middle Ground"; Michelle Jang (Pioneer Middle) with "The Human Condition"; and Carly Agopian (Hewes Middle) with "Luna."
The Art Invitational was underwritten by TACFA, but supported by a grant from the Tustin-Santa Ana Rotary Club and sponsorship from Enderle Center.  Additional contributors were: Rita Chemers, Dawn Burdick Jennifer Klenske, Kimber Elston, Pam Maxson, Juanita Cripe, Terri Anderson, The Lost Bean,   Anchor Printing and Tustin Awards.