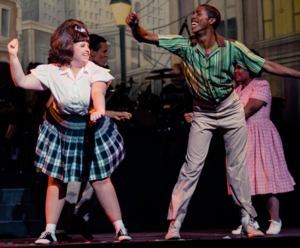 High school teenagers, parental angst, women's rights, racial equality, and rock and roll music.  Odd combination?  Not if you were one of the lucky audience members who came to Old Town Tustin on a warm summer night to see "Hairspray"!  By the end of the evening everyone was up on their feet rocking out to "Good Morning, Baltimore" and "You Can't Stop the Beat" and wildly applauding this lively production.  Offering an outstanding 13th year of Broadway musicals, TACFA scored another hit.  Tracy Turnblad proved her case for not judging people by their size, appearance, or skin color, but by their character and appreciation of individual talents.  Her infectious dance moves and teenage naivety warmed the hearts of her audience, young and old alike!  The music, dancers, and funny antics of  Edna and Wilbur Turnblad, teenage friends, and a local DJ with the clever idea of promoting rock n' roll music on television, helped us to recall an earlier age and time.  The mothers empathized when rebellious teenage girls rushed headlong into new values and experiences as they sang "Mama, I'm A Big Girl Now!"  The theme of equality for the races was sung with deep soul by Motormouth Mabel.  The crowd applauded enthusiastically as she finished 'I Know Where I've Been."  The audiences cheered for justice as the men and women landed in jail after protesting for equality with the "Big Dollhouse."  What an evening of emotions and excitement!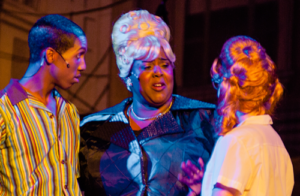 Each fall TACFA Board members begin the process of reviewing titles of Broadway musicals to select an entertaining theme for its patrons of Broadway in the Park.  After budgeting for its many art programs throughout the Tustin community, the monies that are dedicated to producing the next musical must pay for contracts, sets, rental of equipment, costs of setup, contracts for maintenance, portable restrooms, City fees, and security.  TACFA's Board is an all-volunteer organization with each member assuming a particular responsibility in the production.  The Vice President of Broadway in the Park begins to coordinate all parts and parties, much like an orchestra conductor.  Meetings are held regularly to ensure that all of the players in this orchestra know and perform their piece well.  The result is seen the five days of the summer production.  From Tuesday, August 20th to Saturday, August 24th this year, audience members were indeed treated to a top rate musical.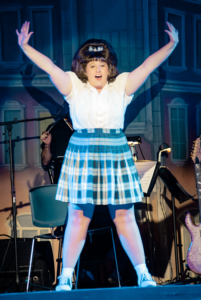 TACFA offers its deep appreciation to our wonderful sponsors and business sponsors who helped to greatly underwrite the cost of this production.  Without their generosity, this production could not be staged.  They help us to offer a quality production and at affordable price to the Tustin community and greater Orange County audience. Our donors, too, contribute to the many art programs that TACFA supports throughout the year.  Their names can be found on pages 3 and 4 of this newsletter.  We hope that many of you will also consider supporting the mission and goals of TACFA in this coming year.
Our sincere appreciation and thank you to our partnerships with Theatrical Productions, the City of Tustin, Tustin Parks and Recreation, Field Services, the many non-profit groups who sold food, the Tustin Unified School District, and the hundreds of community volunteers, the Vice President of this year's Broadway in the Park, Joe DiCorpo, was able to lead an enthusiastic committee to organize all of the components to a fantastic outcome.
We begin again very soon to plan our 14th Broadway in the Park Production.  If are interested in joining us a Board member or as a volunteer for our many art programs, please contact us.
For more information on how to support TACFA, become a Broadway in the Park Sponsor, or volunteer for Broadway in the Park 2013, please call (714) 518-5519.
---
BENEFACTOR
Alberta Kimball Foundation
GUARANTOR
The Pankey Family
George and Maxine Trotter(Murdy Foundation)
PRODUCER
Robert and Judi Jo Amy
Enderle Center Management
North Tustin Veterinary Clinic
STAR
Jonathan and Laurie Abelove
Arvid Bollesen
Imaging Biz (Curtis and Mary Kauffman)
Chuck and Kathy Tarrant (2)
Tustin Community Bank
EGS, LLC
ASSOCIATE
Bill and Fay Amneus
Jordan and Bonny Atzeff
Gerry and Diane Aust
John and Lynda Bjoin
Robert and Frances Bridenbacker (5)
Doug and Melanie Davert
Dr. and Mrs. Phil DiSaia
Jerry and Kathy Quisling Dunlap
John and Linda Garner
The Gomez McKeon Family
William Langstaff, DDS (4)
Dr. Patricia and Robert Machado
Rutan and Tucker, LLP
Doug and Janette Thomas
PROMOTER
AA Jewel Box
Rick and Angela Barker
Law Office of Jane Bauer
Paul and Rose Briscoe
Brushstrokes
Buckley Ranch
Mike and Kristie Burns (3)
Business Alliance of OC
California Bank and Trust
Stu and Joyce Eriksen
Fletcher Jones Motorcars
Mumolo and Fortes, DDS
Matt and Nancy Ivary
Leo and Marlys Lano
Kerry Givant, CFM/Merrill Lynch
Wendy Greene ( 1)
Carl and Kathy Greenwood
Scott and Susan Kohn
Dr. Milt and Susan Legome
James and Claudia Looney
Bill and Pat Podlich
Helen and Marshall Rowen, MD
Jeanne Siegel
Lisa and David Stanton, MD
Sunwest Sales Company
Tustin Ranch Golf Course
Jody and Loren Wedret
Business Sponsors
Alex Moving and Storage
Balfour Beatty Construction
Elegant Hive
EmbroidMe
Enderle Center Management
First Team Estates
Fields Pianos
Independence Bank
Red Hill Lutheran Church
Saddleback Chapel Mortuary
Tustin Area Woman's Club
Tustin Auto Center
Tustin Dance Center
Tustin Hearing Center
Tustin- Santa Ana Rotary
IN-KIND SPONSORS
STAR
Andy Gump
Balfour Beatty Construction
Brixen and Sons, Inc.
Tustin Unified School District
Press Print
City of Tustin
Memorials
1 – In loving memory of RM Green, JoAnn Bolleson, and Becky Barrett
2 – In memory of Betsy Tarrant
3 – In memory of Phyllis Demler
5 – Memorial for Barbara Benson and Phil Nicolai
Honorariums
4. Bonny Atzeff