Tustin Area Council for Fine Arts (TACFA) proudly announces that its 17th annual Broadway in the Park summer production will be the acclaimed Broadway musical "Annie" in cooperation with the Chance Theater.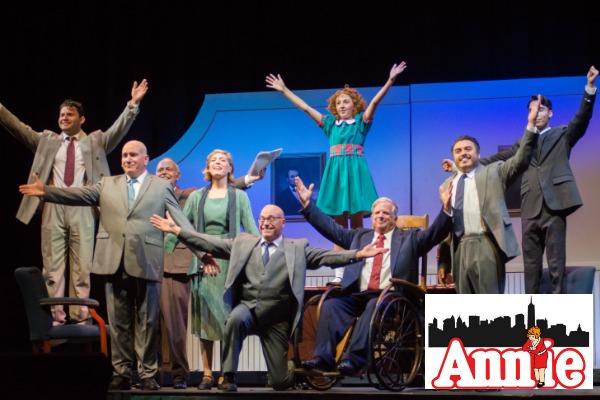 August 15-19, 2017
Peppertree Park, Old Town Tustin
Leaping Lizards this is a great show! Based on the popular comic strip by Harold Gray, Annie has become a worldwide phenomenon and was the winner of seven Tony Awards, including Best Musical. The beloved book and score by Tony Award winners, Thomas Meehan, Charles Strouse and Martin Charnin, features some of the greatest musical theatre hits ever written, including "Tomorrow." With equal measures of pluck and positivity, little orphan Annie charms everyone's hearts despite a next-to-nothing start in 1930s New York City. She is determined to find the parents who abandoned her years ago on the doorstep of a New York City Orphanage that is run by the cruel, embittered Miss Hannigan. With the help of the other girls in the Orphanage, Annie escapes to the wondrous world of NYC. In adventure after fun-filled adventure, Annie foils Miss Hannigan's evil machinations.  She finds a new home and family in billionaire, Oliver Warbucks, his personal secretary, Grace Farrell, and a lovable mutt named Sandy. Annie is the perfect family-friendly musical.
Thank You To Our 2017 Sponsors
BENEFACTOR – $10,000+
Alberta Kimball- Mary Anhaltzer Foundation
The Pankey Family
GUARANTOR – $5,000 – $9,999
Enderle Center
North Tustin Veterinary Clinic
Murdy Foundation
PRODUCER – $2,500 -$4,999
Robert & Judi Jo Amy
Carl and Marge Kasalek
STAR – $1,000 – $2,499
Anonymous
Jonathan & Laurie Abelove
Jordan & Bonny Atzeff 1
Gerry & Diane Aust
Bruce & Cathy Crair4
Smart and Final Charitable Fund
Chuck & Kathy Tarrant2
Tustin Community Bank
Bill & Nancy Wills
ASSOCIATE – $500 – $999
John & Lynda Bjoin
Libby Buckley
Beightler Squires Charitable Trust
Phil & Patti DiSaia
Jerry & Kathy Dunlap
Vincent & Barbara Foster
Carl & Kathy Greenwood
David & Adele Heuer
Phil Lisle
Robert & Dr. Patricia Machado
Eligia Nicolai
Jeanne Siegel
Doug & Janette Thomas
PROMOTER – $300 – $499
AA Jewel Box
American Grub
Bank of the West
Rick & Angela Barker
Mike & Kristie Burns3
California Bank and Trust
Stu & Joyce Eriksen
Wendy Greene
Rebecca Gomez & John McKeon
Howard & Carol Hay5
Dave & Julie Hirz
Curtis & Mary Kauffman
Mumolo and Fortes, DDS
Kerry Givant
Dr. Milton & Susan Legome
James & Claudia Looney
Leo & Sharon Middleton
Marshall Rowen, MD & Ronna Smith
Sunwest Sales Company
Tustin Area Historical Society
BUSINESS SPONSORS
Balfour Beatty Construction
Brushstrokes
Chapman University
Chemers Gallery, Inc
Davert Law Corp.
Fletcher Jones Motorcars
William Langstaff, DDS
Own It Now Realty Team
Roma D'Italia
Saddleback Chapel
David Buckingham Smith
Tustin Area Woman's Club
Tustin Auto Center
Tustin Community Foundation
Tustin Dance Center
Tustin Ranch Golf Club
Tustin Hearing Center
Wilcox Manor
IN KIND DONORS
Aloha Graphics
Anchor Graphics
Andy Gump
At Play Photography
Balfour Beatty Construction
City of Tustin Parks & Rec
CR&R
Grocery Outlet of Tustin
Saddleback Equipment Rentals
Tustin Unified School District
Tustin Awards
Wise Guys Pizza
MacRostie Vineyards
Winesellers LTD
Rachelle Zimmerman
MEMORIALS
1In memory of John & Erman Miller
2In memory of Betsy Tarrant
3In memory of Phyllis Demler
HONORARIUMS
4In honor of Harry Nicol
5In honor of TACFA Volunteers