The Tustin Area Council For Fine Arts was founded in 1992 by a group of community members who recognized the need to support the arts and how the arts would bring value to the people who work, live, play and learn in the greater Tustin area.
TACFA's mission is to develop, showcase, and support the arts in our community. We strive to create rich opportunities for arts participation for everyone.
Although TACFA is best known for our annual Broadway in the Park production, we also support many other programs.
We organize a student art competition and exhibit that draws over 200 entries and offers prize money to the students, and stipends to their teachers.
TACFA provides the funding to send over 1,000 Tustin 4th graders to a symphony created just for children.
We provide funding to nine Title 1 elementary schools to enable them to have art education for their students.
TACFA's scholarship programs help graduating seniors to continue their art education.
Our support of Access to the Arts allows students attending classes through the Orange County Department of Education ACCESS Program at Academic Center of Tustin; to earn credits while learning the basics of art and composition.
TACFA organizes and provides funding to the Smile Tustin photography contest each year at the Tustin Art Walk as well as provide the prize money for the Plein Aire Art Competition at the Art Walk.
We also assist with funding of The Voices of Tustin chorus which performs throughout Tustin.
TACFA, in conjunction with Chemers Gallery, helps to promote and fund an annual all-media juried exhibit for local artist.
Our Artscapes program seeks to provide the city with public art sculpture that will enhance the beauty of Tustin.
We also provide funding to the Tustin Art League.
Finally, our signature program, Broadway in the Park, brings together over 140 volunteers so that nearly 5,000 members of the community can enjoy a professional musical production at an affordable ticket price.
For 25 years TACFA's sound fiscal management and ability to keep operating costs low, has enabled us to continually expand programs that will help us create community through the arts.
---
The TACFA Board of Directors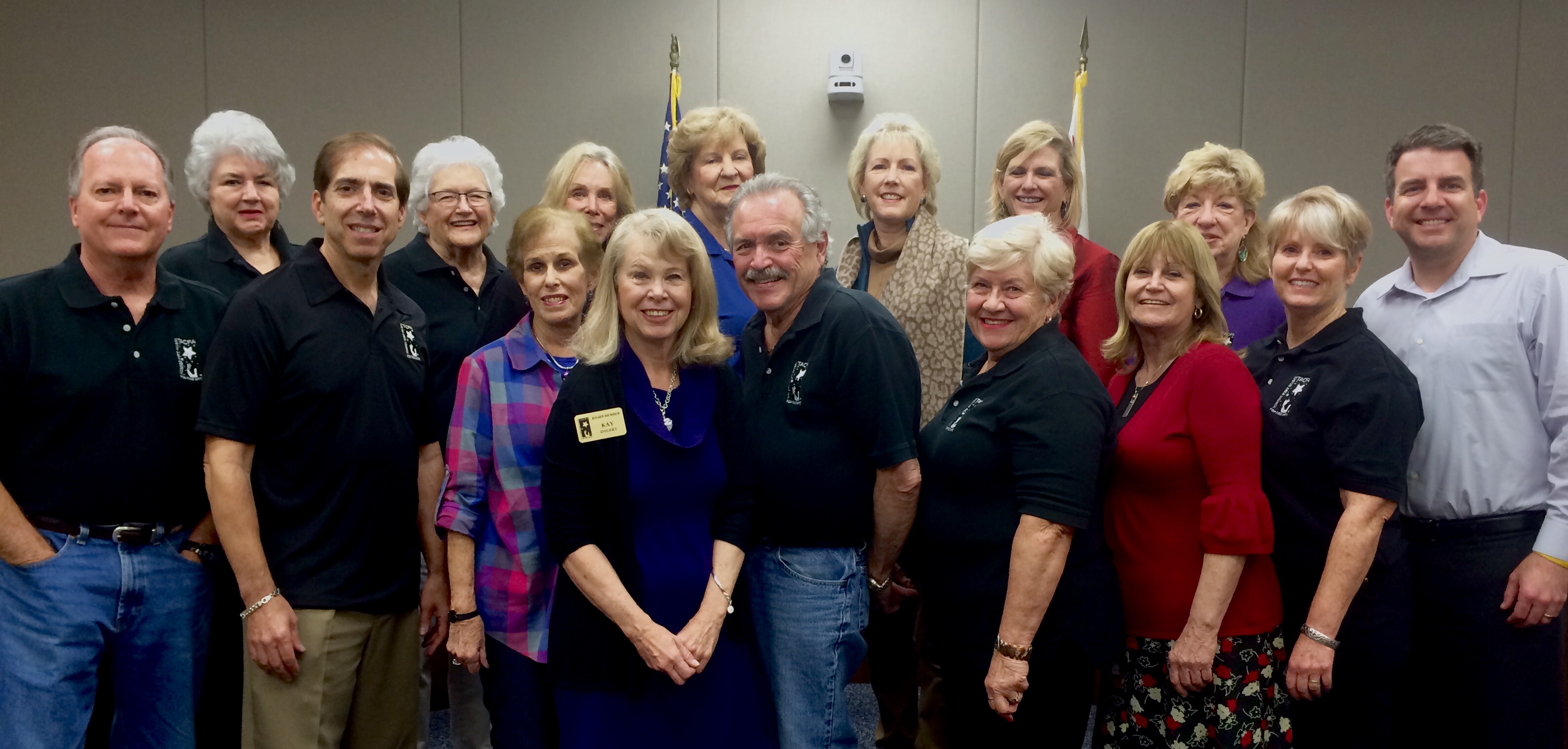 FRONT ROW:  Bob Casey, Jonathan Abelove, Sue Legome, Kay Dygert, Bob Machado, Diane Aust, Betty Carle, Cathy Crair, Scott Cwiertny
BACK ROW:  Eligia Nicolai, Wendy Greene, Nancy Ivary, Libby Buckley, Bonny Atzeff, Erin Kociela, Pat Machado
NOT PRESENT: Jen Acuna, Tony Wong, Kim DeBenedetto
Interested in serving on the TACFA Board?
The Tustin Area Council for Fine Arts is looking for volunteers to serve on their Board for the 2017 year who are dedicated to promoting music, art, dance, and performance in the greater Tustin Area. Volunteers should be willing to commit time to monthly meetings as well as local art activities.  Interested volunteers may email Eligia Nicolai, Vice President of Membership/Board Development at eligianicolai30@att.net.